-
We are glad to inform you that EPoSS will hold its Annual Forum 2021 from October 4 till October 7, 2021.
This year's event is organised under the motto "Towards new Horizons".
In addition to the regular conference programme, brokerage opportunities and a Start-up Award contest are planned to encourage participation of SMEs, start-ups and young researchers.
We really do hope that we will be able to meet in person this year, even though, we will probably be forced to keep the number of participants limited.
However, we will of course monitor the pandemic situation and inform you in due time on any changes.
At the moment the Executive Committee Meeting and the Working Groups´ meetings are scheduled for October 4 and the General Assembly for October 5, 2021.
If you have any questions or if you need further information please do not hesitate to get in touch with the EPoSS Office via email (contact@smart-systems-integration.org) or phone (+49 30 310078 155).
The detailed programme will be published soon.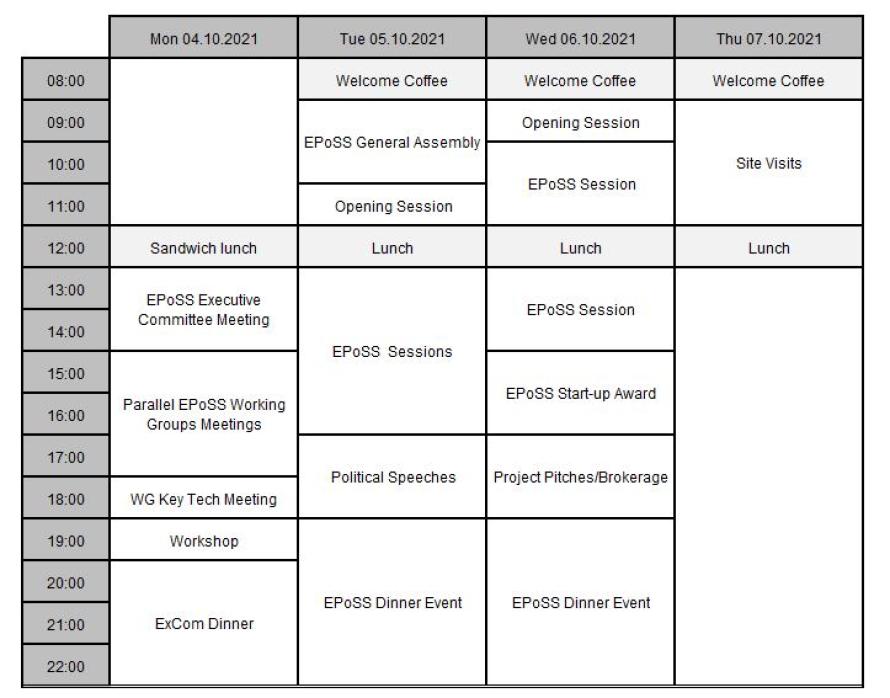 Call for Presentations will open in due time.
Registration will open in due time.
Within the scope of EPoSS Annual Forum 2021, a contest for young Start-ups and innovators, will take place on October 6. Under the working title "EPoSS Start-up Award", the presenters will introduce their innovations (at early or mature stages of development), concepts, ideas or business cases. The pitches will have to target Smart Systems technologies for a variety of applications areas such as Manufacture, Energy, Mobility, Flexible Electronics, Wearables, Food, Water, and Agriculture.
Furthermore, the pitches will be observed by the jury, consisting of EPoSS experts from industry and research as well as national funding organisations. The jury will have a dual role for all the contestants – on the one side, it will act as mentor and provide valuable advice on how to improve concepts and business. On the other side, the jury will have a role of a potential business partner, choosing and acknowledging the most innovative and promising idea.