Location
Digital Conference
-
Due to the COVID-19 outbreak, EPoSS – The European Technology Platform on Smart Systems Integration – will hold its Annual Forum as a digital conference.
As announced this year's event is organised in collaboration with EPoSS' strategic partner EPSI – European Platform for Sport Innovation – within the European Week of Sports. Moreover, the event will be hosted by EPoSS member Hahn-Schickard and supported by MicroTEC Südwest.
The Forum will have a special focus on Smart Systems for applications in Sports and Healthcare. Moreover, the event will address issues concerning sustainable and healthy environment and key integration technologies for flexible and wearable Smart Systems.
EPoSS will held its yearly General Assembly on 29 September 2020.
The programme will be adjusted to the new digital format of the conference soon.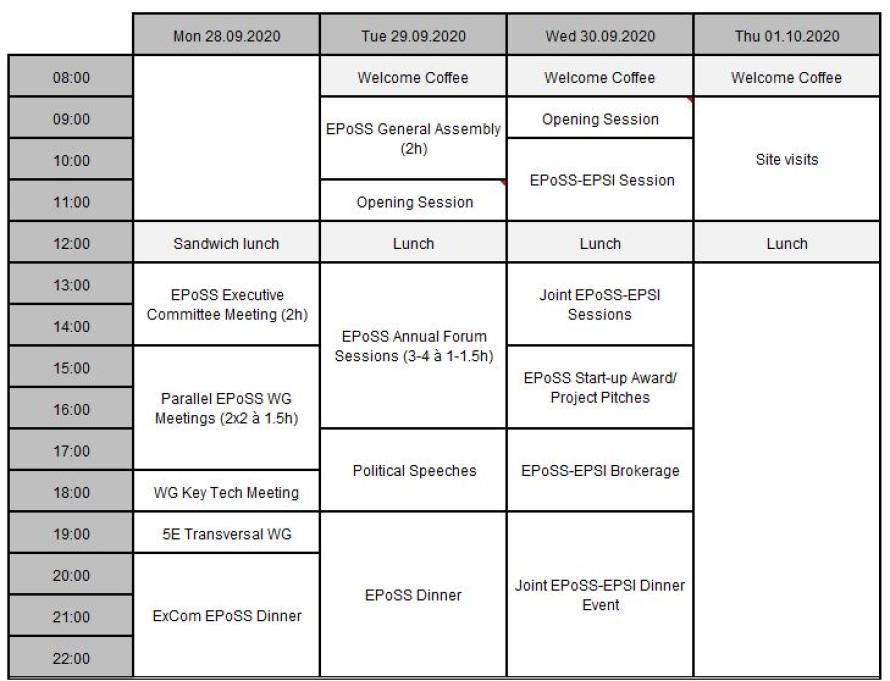 Call for Presentations: UPDATE!
In order to present the latest developments in Smart Systems Integration (SSI), we invite you to send your abstracts for presentations and showcase digitally your latest Smart Systems innovations or technology developments for Smart Systems Integration.
For September 30, a joint EPoSS-EPSI day is planned. It will focus on Smart Systems for applications in sports, active lifestyle and for a sustainable and healthy environment. We also aim to spotlight in a separate session the contribution of Smart Systems to the fight against COVID-19 that demands research efforts from multidisciplinary scientific fields.
Presentation could include one or more of the following topic areas: 
Smart Systems Integration research & developments for the following applications:
Sports

Healthy and Active Lifestyle

Healthcare

Healthy Food including Agriculture

Sustainability and Green Economy, incl. Energy and Mobility Aspects to reach the Green Deal Missions
Latest developments and innovative technologies for SSI in the area of:
Next Generation Smart Sensor Systems

Artificial Intelligence Integration at System Level

Managing Integration Challenges at Material,
Technology and Process Level, including Flexible Electronics and Integrated Photonics

Reliable, Sustainable and Trustworthy Smart System Solutions

Smart Systems life cycle: conception, design, prototyping, manufacturing, testing, consumption, use, service provision, standardisation
Brokerage opportunities will be organised to network the two Communities and encourage especially SMEs, start-ups and young researchers to become involved.
If you wish to participate in the Call for Presentations, please submit your abstract (1,500 – 3,000 characters) together with your full contact details as well as a short biography to contact@smart-systems-integration.org by June 15, 2020.
Please use the template for abstract submission which you can find in the download section below.
Presentations will be selected by the EPoSS Annual Forum 2020 Technical Committee.
Invitations for the authors of selected presentations will be sent out until June 30, 2020.
The registration will open soon.